Why bring Richard to your venue?  Well…..  National act touring  and major record label recording experience — Arizona Republic's "Best Solo Artist" — Emmy nominated and Telly Award winning songwriting — Arizona CMA "Entertainer of the Year" and "Band of the Year."  No name dropping but I have worked with some of the best on both the national and local level.  It's about the music and about making it entertaining.
I have posted a recent performance below at The Listening Room.  Give it a listen and you decide. I perform in a variety of configurations and mixed genres.  From solo acoustic to a full band and everything in between, the ideas is to tailor the act to fit the venue.  Want some country, pop or blues in the night?  Not a problem.
I am always looking for great venues.    Solo acoustic, with a band and genre hopping at will.  Let's have my people get in touch with your people and work something out.  Oh, I forgot my manager is still wrapped up with that thing with the FBI.  Guess you will just have to give me a call.
The Listening Room —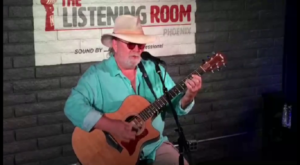 More Videos